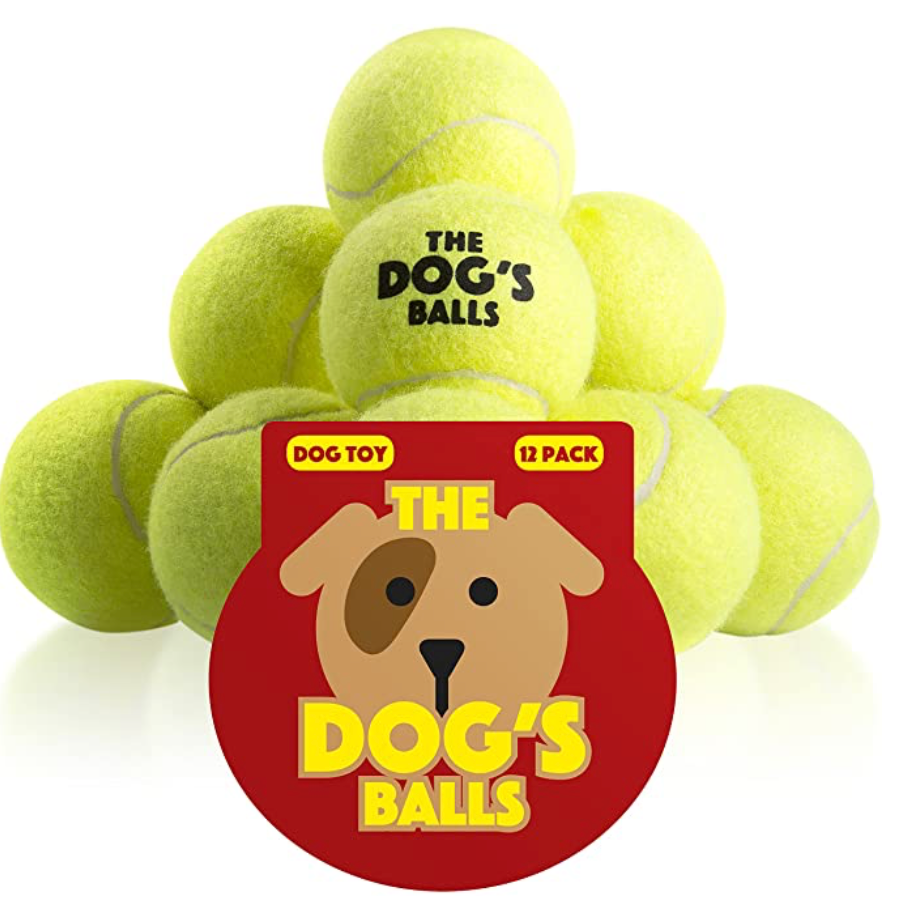 The Dog's Balls - 12 Strong Dog Tennis Balls
$21.00
Medium 12-pack. Premium quality bouncy dog tennis balls for retrieval games produced specifically for dogs using non-toxic materials

High visibility balls in bright colors so balls are easier to find when playing in the park and other green areas

Tested and certified to be non-toxic and safe to be carried in a dog's mouth. Both the ball sphere and the glue are made of natural rubber; felt dyes and ink stamps are non-toxic

Non-abrasive felt won't wear down your dog's teeth and is easy to clean

A fun addition to your dog's exercise plan with the added benefit of satisfying their prey drive in a healthy way
WE LOVE DOGS
It's our mission to produce products that pass our Quality of Life Test: products that contribute positively to your dog's health, happiness and overall wellbeing & that help your dog to live their best life.
The Dog's Balls were designed for retrieval games to satisfy and control your dog's prey drive - the instinctive inclination to chase - while also providing them with the physical exercise they need to be calmer at home.
Playing a game of fetch is a safe and healthy way to curb the overwhelming desire some breeds have to chase smaller animals and moving objects such as cars, skateboards and bicycles.
Inspired by tennis. Made for dogs.
The Dog's Balls are like tennis balls, only better: they have thicker sphere walls than that of standard tennis balls and are made to be robust retrieval toys. They've also been subjected to stringent tests designed for items that can be placed in the mouth, and we're proud to tell you that The Dog's Balls have been confirmed to be non-toxic and safe for dogs.
Quality is the keystone of our brand.
We want our products to meet both our high standards and yours, so we use premium materials to produce our balls and we've had the quality of The Dog's Balls verified by two international third party companies specialising in inspection, testing, verification and certification.
We also conducted in-use tests with dogs ranging in size from toy breeds to giant breeds to make sure that we were producing balls that would be easy to use & long-lasting. We continue to maintain rigorous quality control processes to ensure that a product of the highest quality that stands up to the claims we make for it is delivered to you in perfect condition.