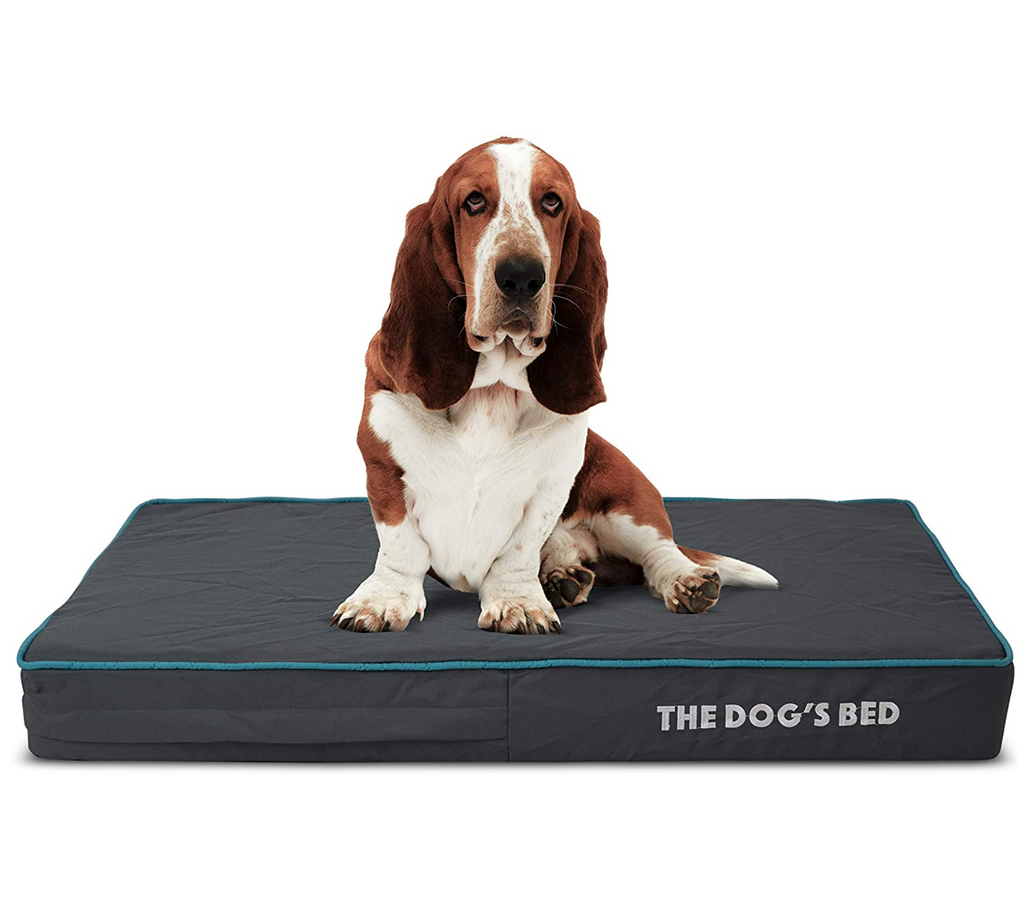 The Dog's Bed Orthopaedic Mattress Bed (Grey with Blue Trim)
$77.00
Premium quality waterproof orthopaedic mattress dog bed. Solid premium grade, high density, orthopaedic memory foam over a solid base of high stability premium support foam with covers designed so that your bed fits your home decor seamlessly and your dog can stay close to the family

A prudent preventative measure for younger dogs of breeds predisposed to joint conditions, ensuring your dog's joints remain mobile into their senior years, improving their quality of life and keeping your dog healthy and active for longer

Therapeutic bed designed to provide relief and comfort to tripawds, dogs with joint conditions such as hip- and elbow dysplasia and arthritis and dogs recovering from surgery to ensure that they sleep soundly and get the rest they need to recover

For effective management of discomfort resulting from hip and elbow dysplasia, arthritis, patellar luxation, osteochondritis and other conditions such as torn cruciate ligaments. Prevents elbow calluses as well as pressure sores that result from immobility during illness and post-surgery

Bed comes with removable covers that are easy to wash, quick-drying and include a waterproof mattress protector to catch accidents associated with incontinence. Replacement covers can be purchased separately.

Covered by a 1 year limited warranty for manufacturing defects
WE LOVE DOGS
Our mission is to produce beds that pass our Quality of Life Test. Beds contributing to your dog's health, happiness, wellbeing to help your dog to live their best life.
Our design keeps your dog's joints young for longer. Pet guardians credit The Dog's Bed Orthopaedic with restoring their dog's mobility, vitality & helping them to sleep soundly.
Dogs are family: the structure of our bed approximates the structure & support of a human orthopaedic mattress.
Our heat-sensitive mattress supports your dog's skeletal system, its correct alignment & protects their delicate joints.
Quality is the keystone of our brand.
To meet our high-quality standards & yours, we use premium materials to produce our bed.
Tests with all dog sizes & dogs with conditions such as hip- & elbow dysplasia & patella luxation ensure that our bed enhances dogs' lives. With rigorous quality controls we ensure that our bed is of the highest quality & is delivered to you in perfect condition.
The Dog's Bed Orthopaedic is for young dogs too.
Getting your dog our bed early on is an excellent preventative measure to keep their joints youthful for longer. Many breeds are predisposed to conditions such as arthritis, making their senior years painful.
The Dog's Bed Orthopaedic has been designed to be long-lasting.
In normal use your dog will be able to keep this bed for a long time, so we produce replacement covers for it at a fraction of the cost of replacing the whole bed.
Easy-clean, plush or linen?
The easy-clean cover was designed for dogs who shed or drool or are recovering from surgery as it is easy for pet guardians to vacuum or wipe clean. The plush cover is a snuggly option that feels like a soft blanket - dogs love it & can be used year-round. Linen is a sophisticated summer option and a tasteful addition to a living room.